Join our founder Simon Moffatt on September 15th where he will join PlainID on a discussion around external authorization platforms.
The modern digital native enterprise is facing a number of emerging and incumbent challenges – from increased competition and demand for a more agile service deployment model through to needing the ability to share more data to more people, all under a competing climate of increased security threats coupled with a lower risk appetite.
How does authorization fit in? Many organisations have tackled access control via a tightly coupled and embedded approach within enterprise applications – that becomes difficult to extend, costly to support and is falling behind modern business needs. Today authorization is seen as a business enabler, empowering new stakeholders such as chief digital officers, security leaders, application owners and data controllers.
The need to be agile – whilst protecting a new and broad array of enterprise assets – from APIs, web sites, data and consumer facing systems – requires a new approach to authorization, that is external from the underlying systems being protected. Centralised management and distributed enforcement is the modern access control panacea, with a range of tools to integrate access control processes to an ever growing list of deployment scenarios.
Join Mickey Martin, Director of Product Outreach at PlainID and Simon Moffatt from The Cyber Hut to gain insights on how homegrown approaches compare to a platform approach. In the webinar, discussion topics will cover:
Business Challenges of Authorization
Externalizing Authorization with Policy-based Access Control
Centralized Management and Distributed Enforcement
The Limitations of Homegrown Solutions
The Cost of Doing Nothing
Agenda:
11:00am – 11:10am – Welcome – Mickey Martin, PlainID
11:10am – 11:30am – Externalization of Authorization Policies – Build vs. Buy Challenges and Solutions – Simon Moffatt, The Cyber Hut
11:30am – 11:50am – PlainID Next Generation Authorization Overview, Mickey Martin, PlainID
11:50am – 12:00pm – Q&A, Wrap up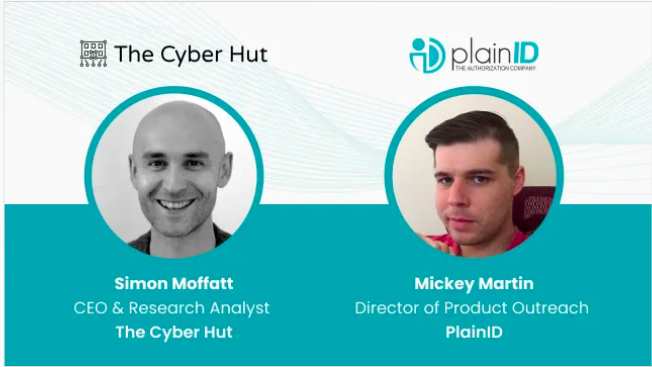 Register here.