Let us start with you. The Cyber Hut works with both buy side practitioners working within industry and sell side vendors delivering identity and access management security solutions and technology.
We also support venture capitalist investors too.
You are all on a mission to improve security without impacting usability, for a varied range of highly valuable information assets. 
You face barriers to succeed. Let us help remove them.
CISO, CIO, identity architect, security architect, security engineer, consultant
Lack of clarity regarding market technology, trends and use cases

Lack of independent vendor capability assessment

Seeking unbiased vendor agnostic cyber security architecture advice

Requires guidance surrounding vendor procurement and evaluation
Chief Marketing Officer, Chief Product Officer, CEO, Chief Technology Officer
Requires independent market understanding

Needs to expand knowledge regarding the voice of the customer

Requires independent content such as webinars, blogs and whitepapers

Wants to understand emerging use cases and requirements
Analysts, Researchers, Investors, Due Diligence Consultants, Partners
Requires a non-technical overview of a market sector

Has a lack of clarity regarding vendor capabilities

Has a lack of knowledge regarding competitive differences

Would like an independent assessment of emerging trends
An independent expert partner to help maximise your understanding and optimise your architecture.
Unbiased and Independent
We never partner or receive sponsorship for any of our research – allowing us to be impartial, honest and focused. We never deviate from increasing our industry knowledge, that can help improve security spending or improve security vendor positioning. We ask the tough questions so you don't have to.
Expert and Certified
You wouldn't expect your medical practitioner to perform a procedure simply based on their expertise. You would want them trained, certified and assessed like any other industry expert. The Cyber Hut are experts. Trained in multi-disciplinary security sectors. We have the badges (and scars) to prove it.
A Voice
You require a clear, strategic and influencing voice, for architecture design comments, independent thought leadership content or a conference key note. Clarity and direction help fulfil the tactics and implementation. The Cyber Hut are called upon as cyber security influencers.
A digital storefront experience for a range of independent applied research and advisory services on the global identity, access & cyber security industry.
A world where every digital interaction has a foundation of usability and security.
Research that is awesome.
The Cyber Hut (formerly Infosec Pro) was started in 2009, by Simon Moffatt. It is a leading research, insight and analysis resource, focusing on the market, design and architecture of the products and services that help keep information secure and available.
Cyber security is complicated. Threats continually evolve. Startups emerge and technology changes. The Cyber Hut provides a virtual analyst experience – deconstructing the industry analyst functions into bite sized chunks, accessible via a digital store front.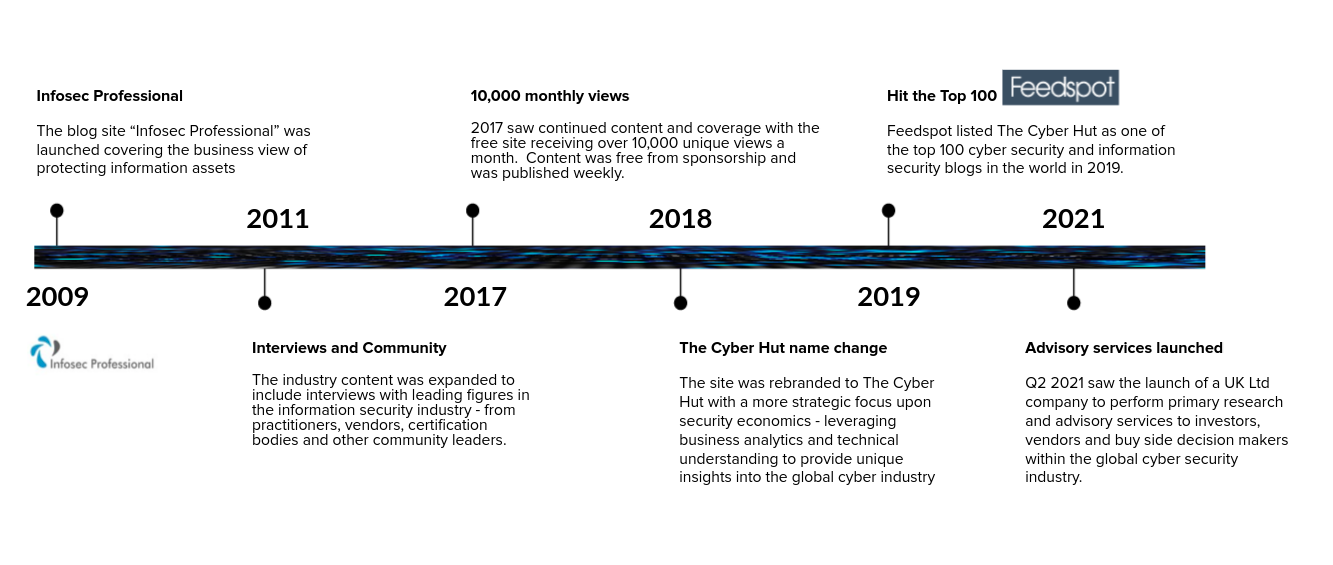 We've been there; got the security t-shirt.
Being qualified isn't just to show we know what we're talking about. It helps us to understand what is being asked of by the profession. It helps us to understand, what our clients are working towards, the language they use and the challenges they are facing.
We contribute back to the security community through talks, membership articles and standards.
Simon provides overall strategy and content management for The Cyber Hut, analysing unique positions with many different lenses.
He is a published author and NIST/IETF contributor. He has a B.Sc (hons) in Economics and a Post Graduate Diploma in Information Security from the GCHQ certified Information Security Group at Royal Holloway, University of London.
His long running research is focused upon defensive security architecture, distributed authentication and authorization and nation state cyber strategy.
He is an advisor to Nullafi a Chicago based data security company.
20+ years in Cyber and Identity & Access Management

Fellow of Chartered Inst. of Information Security

Author of "Consumer Identity & Access Management Design Fundamentals" (ISBN 979-8570842465 Amazon)
Identity & Access Management, Authentication, Authorization, Identity Governance, Identity Centric Security, Cryptography, Zero Trust, Nation State Cyber Strategy, Defensive Technologies, Risk Management, IoT Security, Embedded Security.