Today I'm proud to announce the launch of The Cyber Hut's IAM Radar: a subscription based curated vendor intelligence report. Released monthly, the report tracks the top 6 vendors in the global identity and access management space, providing insight, impartial comment and analysis to empower those within industry, consultancy, vendor and investment communities.
The What
Augmented commentary on the established vendors in the global identity and access management market.
Vendors currently tracked include:
Why these six? Over the past 18 months, these vendors have been the most asked about via The Cyber Hut's inquiry services – for their competitive positions, market strategy, integration options and future expectations. They also represent the main feature breadth of the identity and access management market – from life cycle management, access management, privileged access management, identity governance and administration and the emergence of consumer identity and access management too.
Some are public (NASDAQ: OKTA, NASDAQ: CYBR, NYSE: FORG) and some were – namely Ping Identity and Sailpoint who now belong to the Thoma Bravo private equity portfolio and soon to be joined by ForgeRock who had a definitive agreement signed in October 2022.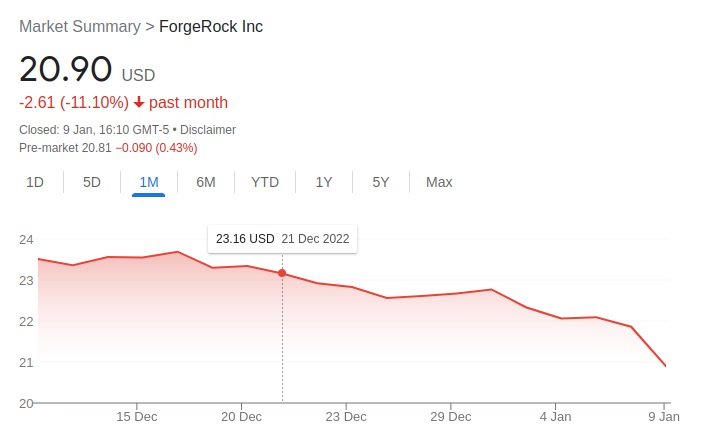 The Why
To provide a high level, easy to digest view of the market and vendor dynamics in the global identity and access management space.
This is useful for vendor due diligence, investment planning, use case design, capability changes, market characteristics and emerging trends.
Identity and access management can be complicated. The features are nuanced. The value associated with IAM is often difficult to measure and articulate to different stakeholders within the business. By having a simple to digest, regularly updated and more importantly consumable report, can provide technical and non-technical business leaders with a snapshot view of the main players within the industry.
The How
A subscription based report that is released at the start of each month. The report contains a curated list of news worthy items related to each vendor, along with impartial expert analyst comment. The report is based on a range of open source data signals (OSINT) including:
LinkedIn updates
Twitter updates
Product updates
Case studies
Conferences
Funding
Headcount changes
Share price changes
Partners and acquisitions
Blogs and news
The cost is £25 per month, or £275 per year, each available with a 7 day trial.
Subscribe today.